All of our Centre Court Tickets for Wimbledon on Friday 1st July 2022 include:
Centre Court Tickets on Friday 1st July
Access to the Debenture Holder Restaurants
Return Private Chauffeur driven transfers to and from the All England Lawn Tennis Club
Free UPS Shipping Worldwide
All Service Charges & UK Taxes
Full Financial Protection
Ticket Groupings
Due to the way in which Debenture Tickets are allocated the tickets are normally sold in Pairs.  Therefore if you need more than 2 tickets together, or an odd number of tickets, please contact us for a bespoke quotation.
Please note that the prices below are inclusive of VAT.
1 Day
Available on request
Third Round Matches
Return Transfers
Private, return chauffeur driven transfers are included from addresses inside the M25 to the All England Lawn Tennis Club.  Pick-ups can be from a hotel or private residence at a time chosen by you.
Seating Plan
All Wimbledon Debenture Tickets are located in the best locations around the Centre Court.  The seating plan below shows all of the Debenture Seat locations marked in the Purple sections.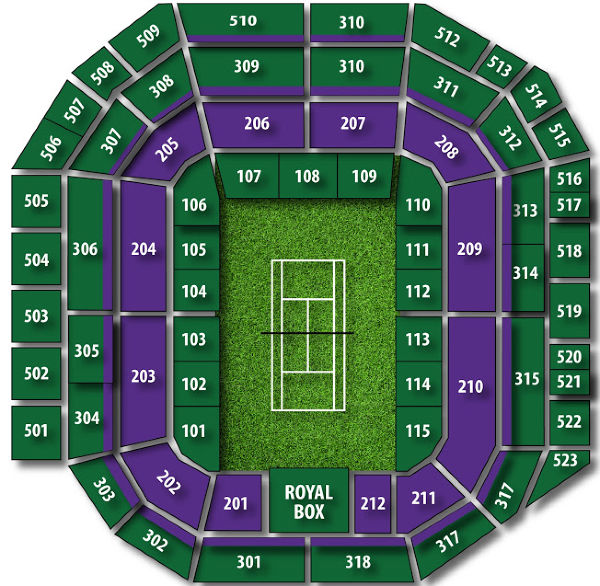 All England Lawn Tennis Club Centre Court, Church Road, London, UK
View on Map
Wimbledon Debenture Tickets are allocated all around the No. 1 Court. The map below shows the ticket areas that are dedicated to Debenture Holders.
Debenture Tickets at Wimbledon are the only tickets that can be legitimately transferred to third parties for resale. Issued with a 5 year license, No. 1 Court Debenture Holders are provided with 2 tickets on No. 1 Court for everyday of the Wimbledon Tennis Championships. Tickets for individual days play of Wimbledon are then sold off by the Debenture Holder through brokers just like this one!
Wimbledon Debenture Tickets are located around the 'Club Level' of the No. 1 Court providing the best possible views of the action. Ticket holders also have access to the Debenture Lounges, Bars and Restaurants as well as the Debenture Holders Car Park.